New Work by Hong Zhu: Wings of Spring
Hong has just finished a new work called Wings of Spring.
A bouquet of bright flowers and swaying grasses are moved by springtime winds represented by swirling free strokes of white and black. An original acrylic on canvas.
The image size is 30 x 30 inches and the retail cost is $1650 framed. Another delightful, uplifting addition to the body of work from Hong that would be perfect for Mother's Day.
More of Hong's Art
New Work by Carol Evans
Salt Spring artist, Carol Evans, has released a new print: Intertidal Realm. Carol writes: "This stretch of shore where the tide moves in and out is particularly beautiful. White sand amidst rock and shells is like a garden full of interesting life - creatures whose daily round is entirely timed by the movement of the tides." This image comes in 2 sizes: the smaller size is printed on 100% Rag watercolour paper and the image size is 28" by 18 1/2". The edition is signed and limited to a number of 100 and is $495. Intertidal Realm is also available in a canvas Giclée edition of 295 stretched frames 32 x 21 inches and is priced at $675.
More of Carol's Art
Dichotomy by Bonny Roberts
Dichotomy is another work that is shaped by Bonny's environment in the interior of BC. Two interlocking amorphous shapes made from wood with both missing and raised portions compete with and complement each other in this hi-gloss original.
Mixed Media on wood panel
Size: 36.5 inches(w) x 25.5 inches(h) and 1 inch(d)
$2500 plus tax
More of Bonny Robert Art
Across Space and Time by Shannon Ravenhall
is carved from a very unusual stone from Asia composed of white, grey and black segments - all with differing degrees of hardness.
Size: 19 inches(w) x 12.75 inches(h) and 11 inch(d)
$2450 plus tax
More of Shannon Ravenhall Art
Click on image for larger size
Abbotsford Art Gallery staff are committed to providing quality craftmanship and meticulous care for any treasured items you bring in for custom picture framing. Also, we offer a great selection of picture frames in all price ranges. Whether print or painting or needlework or hockey jersey – we can frame them all! Owner Hong Zhu can also perform art restoration for most works of art. Customers can select frames from Larson-Juhl and Roma, moulding manufacturers of some of the best wood mouldings in the world. In addition, for projects on a budget we have an extensive collection of high-quality plastic frames. We also have a computerized mat cutter to handle large projects.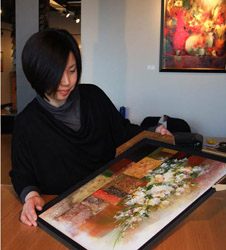 Click on image for larger size
In addition to her many years of experience as an art designer and picture-framer, Abbotsford Art Gallery owner, Hong Zhu, is also a well-regarded artist having spent years mastering techniques of both East and West.
For those of you searching for original art, we are carrying original floral and abstract paintings of Hong's, plus original work of Myrtle-Anne Rempel, SFCA, CSPWC, impressionist Ron Hedrick, plus the wildlife paintings of Bob & Lloyd Barnes. We are also carrying some very exciting and reasonably-priced original abstracts and florals perfect for home or office. For collectors, we will be carrying collectible limited edition prints of well-known B.C. artists such as Carol Evans, Brian Croft and Max Jacquiard.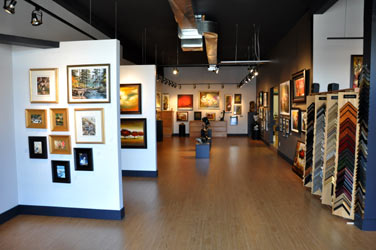 Click on image for larger size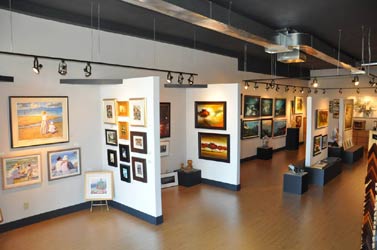 Click on image for larger size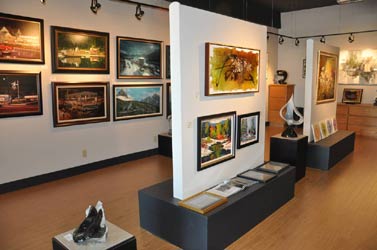 Click on image for larger size
The interior of Abbotsford Art Gallery
In addition, Abbotsford Art Gallery will be carrying a wide assortment of art, both collectible or decorative. Some artists we will feature will be Hong Zhu, Brian Croft, Carol Evans, and Max Jacquiard.