The Reflection
A Contemporary Art Show: Opening Sat. Nov. 16 1-4pm
You are cordially invited to our 3rd annual Contemporary Art Show which will be held at the gallery on Saturday Nov. 16th from 1pm to 4pm. Fraser Valley artists Carmel Clare, Bonny Roberts and Hong Zhu will present art lovers and patrons with a visual banquet of their latest artistic creations based on the themes of Nature, Imagination & Reflections. The artists will be in attendance. Show runs until Saturday December 7th.
To the left are some images representative of the new work by the artists. More images from the show
There will also be a free draw and refreshments will be served. Live music by cellist Kevin Zhang. This is a great opportunity to chat with the artists. Everyone is welcome!
Trainmaster: The Railway Art of Max Jacquiard
Back by popular demand. We just received another shipment of Trainmaster books just in time for Christmas. The featured art was drawn from the collection of Max Jacquaird and the text was written by well-known BC railway historian Barrie Sanford. Signed by Barrie Sanford and only $39.95.
More about Trainmaster railway art book.
New Work by Max Jacquiard: Jackass Mountain
Max has announced a new print called Jackass Mountain will be released this November.
"Historically, one of the major obstacles to travel through the Fraser Canyon was the 6,600 foot mountain on the east side of the river, some 16 miles north of Boston Bar.
More about Jackass Mountain
Yale Tunnel by Max Jacquiard
"The 500 foot Yale Tunnel is one of 11 rock tunnels on the CPR mainline between North Bend and the town of Yale in the Fraser Canyon. The construction of the Trans Canada Highway in the 1950's replaced the precarious old Fraser Canyon Road, a typical section of which is depicted in this painting."
More about Yale Tunnel
More of Max's Art
New Works by Carol Evans
Salt Spring artist, Carol Evans, has recently released 2 new prints: Patience and Sunny Point are available as either giclée canvas prints or giclée paper prints.


Carol writes about Patience: "The stately form of a Great Blue Heron is illuminated in sunlight as it stands stock still, alert and watching... patiently waiting."
More of Carol's Art
Danceland - 1963, Robson St. by Brian Croft
For young people, in the late 50's and 60's, Vancouver's Danceland was the place to go for live music and a superlative dance floor. Located on the second floor of the Clements building situated on the south east corner of Robson and Hornby, Danceland was just two blocks west of Granville Street's theatre row....more about image
Drive-In Heaven by Brian Croft
From the artist: "For those of us who spent our teen years in the Fifties and Sixties, it was an unforgettable time. The automobile had only recently evolved into an affordable and even essential component of family life. We teenagers were lining up for the first time to take driving lessons and when it all came together and we turned the ignition key on our first solo driving experience, the whole world lay at our feet. Free to roam, free to explore our new world, we quickly discovered the more stuff you could do in a car, the better; that included eating!

Of course, this had all been figured out a long time ago and drive-in restaurants had popped up everywhere. A teenager, armed with a new licence, Dad's borrowed car and a few pals on board needed to look cool and the local A&W was very very high on the "cool-list" of places to be and be seen."
Canvas Giclee print in 3 sizes. Signed and numbered editions of 195
Regular Size: 20"H x 32"W
$700 unframed

Large Size: 28"H x 44"W
$1100 unframed

Super Size: 34"H x 54"W
$1500 unframed
More of Brian Croft Art
Click on image for larger size
Abbotsford Art Gallery staff are committed to providing quality craftmanship and meticulous care for any treasured items you bring in for custom picture framing. Also, we offer a great selection of picture frames in all price ranges. Whether print or painting or needlework or hockey jersey – we can frame them all! Owner Hong Zhu can also perform art restoration for most works of art. Customers can select frames from Larson-Juhl and Roma, moulding manufacturers of some of the best wood mouldings in the world. In addition, for projects on a budget we have an extensive collection of high-quality plastic frames. We also have a computerized mat cutter to handle large projects.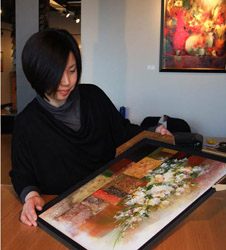 Click on image for larger size
In addition to her many years of experience as an art designer and picture-framer, Abbotsford Art Gallery owner, Hong Zhu, is also a well-regarded artist having spent years mastering techniques of both East and West.
For those of you searching for original art, we are carrying original floral and abstract paintings of Hong's, plus original work of Myrtle-Anne Rempel, SFCA, CSPWC, impressionist Ron Hedrick, plus the wildlife paintings of Bob & Lloyd Barnes. We are also carrying some very exciting and reasonably-priced original abstracts and florals perfect for home or office. For collectors, we will be carrying collectible limited edition prints of well-known B.C. artists such as Carol Evans, Brian Croft and Max Jacquiard.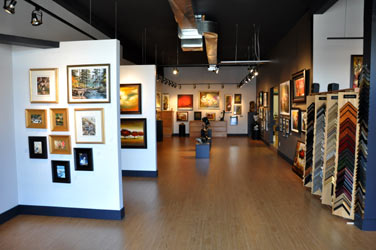 Click on image for larger size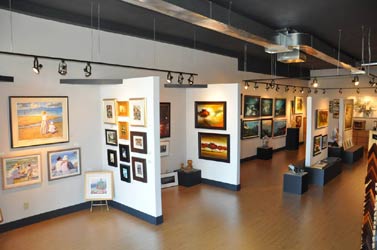 Click on image for larger size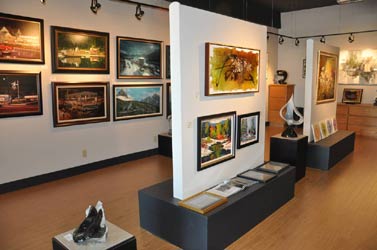 Click on image for larger size
The interior of Abbotsford Art Gallery
In addition, Abbotsford Art Gallery will be carrying a wide assortment of art, both collectible or decorative. Some artists we will feature will be Hong Zhu, Brian Croft, Carol Evans, and Max Jacquiard.