New Max Jacquiard Print
Columbia River Bridge, Early Spring
Steam train artist Max Jacquiard has just released a new print of a Canadian Pacific train crossing the Columbia River Bridge near Revelstoke on a cold spring day.

Please note that there are only 15 signed and numbered prints in this edition, so it may sell out quickly.
Introducing Nicole Ruuska
Otto - Sea Otter and Great Horned Owl
Artist Nicole Ruuska has been creating striking images of the natural world using traditional materials such as acrylics and scratch board and also unusual materials such as feathers and shells. Here are a couple of works now hanging in the gallery.
New Prints by Carol Evans
At the Top of the Falls and Sun Warmed Shore
Trainmaster: The Railway Art of Max Jacquiard
Back by popular demand. We just received another shipment of Trainmaster books just in time for Christmas. The featured art was drawn from the collection of Max Jacquaird and the text was written by well-known BC railway historian Barrie Sanford. Signed by Barrie Sanford and only $39.95.
More about Trainmaster railway art book.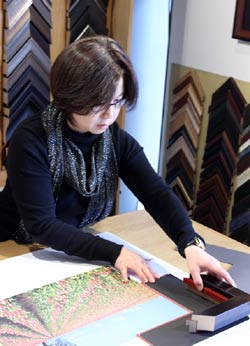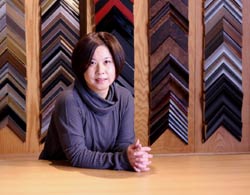 Click on image for larger size
Abbotsford Art Gallery staff are committed to providing quality craftmanship and meticulous care for any treasured items you bring in for custom picture framing. Also, we offer a great selection of picture frames in all price ranges. Whether print or painting or needlework or hockey jersey – we can frame them all!
Owner Hong Zhu can also perform art restoration for most works of art. Customers can select frames from Larson-Juhl and Roma, moulding manufacturers of some of the best wood mouldings in the world. In addition, for projects on a budget we have an extensive collection of high-quality plastic frames. We also have a computerized mat cutter to handle large projects.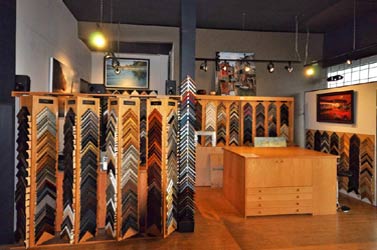 Click on image for larger size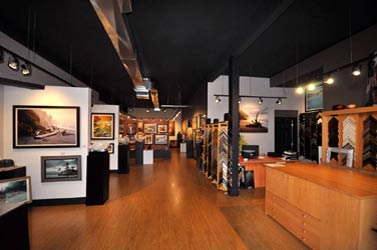 Click on image for larger size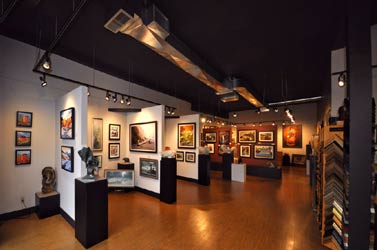 Click on image for larger size
The interior of Abbotsford Art Gallery